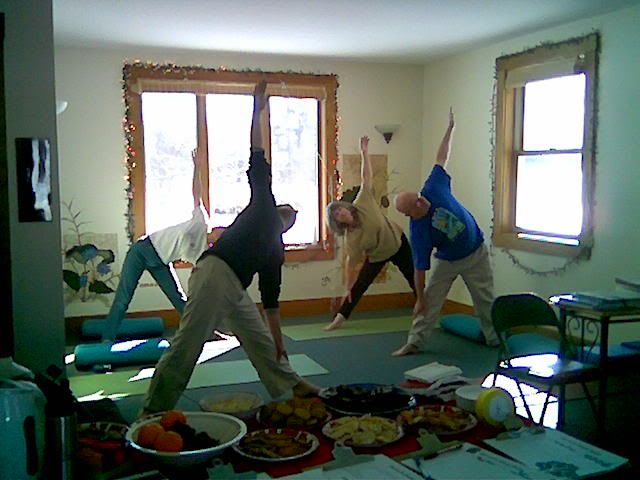 This past Saturday I went to a local holistic health fair, which was awesome in and of itself, but it was also a fundraiser for our church. How fabulous is it that one church has so many healers in it? There was yoga, facial massage, Reiki and crystal healing, Shiatsu massage, aroma therapy, and hand massage with custom-blended aromatherapy oils. Light refreshments were served, along with the most positive energy. The next time this is held again, you've got to come! The suggested (not even required, just suggested) door donation was only $5,
which is ridiculously inexpensive for services that normally cost about $85 per hour.
The two hour spa was a wonderful smorgasbord of holistic healing. Once you arrive at the door, you are welcomed and encouraged to sign up for as many different treatments as you would like. Depending on how many people are there, each session is relatively short, about 15 minutes, and is designed to let you sample a healing modality. I partook of yoga, energy healing, Shiatsu massage, hydrating facial massage, and hand massage with custom-blended aromatherapy oil — made with essential oils that I got to pick out for myself. Barbara Fraser, the organizer of the open house and the aromatherapy lady, was kind enough to give us each bottles of our custom blend.After all of this wonderful healing, we were practically floating with relaxation and wellbeing. A handful of us that saw each other the next day at church realized that we all slept really deeply the night after the spa.
Profile of some of the spa services providers:
Peggy Greer's Anam-Cara studio is filled with light and harmonious energy. She does massage therapy and energy medicine, and provided facial massages with steam treatment. Her number is 207-327-1098.
Barbara Fraser owns Creative Expression Programs through which she provides demonstration training, seminars, workshops and programs using the arts and holistic healing techniques. She also does hand massage, aromatherapy, and creates custom scented oils. 207-793-2103.
Bruce Cote is a holistic pediatric massage and energy therapist who can be reached at 207-522-7257 and through his website at anewawakening.org. Bruce is the gentleman standing next to the massage table in the video.
Jess Greer, Yoga.
Ginny Howe, Reiki.
Diane Whiteside-Peck, Shiatsu massage.