Judea Pearl, the father of Daniel Pearl, the American journalist who was kidnapped and beheaded in Pakistan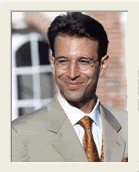 in early 2002, has initiated a journalism internship through Seeds of Peace here in Maine. Sounds a lot less safe than becoming a dentist, but from personal experience, international journalism with a positive mission can be incredibly fulfilling and exciting. I stepped back from it because I wanted to be able to take pictures without worrying about being shot, without needing a bodyguard and without having to turn off the autofocus because at night its ultraviolet light was like a bullseye. But life has been comparatively boring since.
For anyone who lives in a truly dangerous environment like Israel, Ireland, Pakistan, Iraq or "the tough neighborhoods" in major cities, ever-present threats to life provide an opportunity of Choice. Do you hate the people you are told are causing you problems? Or do you work to overcome them, to reach out to each other and build bridges of peace and harmony. I chose the second, and in writing this am reminded to continue choosing it each day.
Daniel Pearl dedicated his life and work to bringing joy, understanding, and friendship to the world. The mission of the Daniel Pearl Foundation, which was started in his memory, "is to promote cross-cultural understanding through journalism, music, and innovative communications." The internship in partnership with Seeds of Peace is designed to use the voice of young peace leaders to each reach hundreds of thousands of readers with their journalism. If you or someone you know is interested in becoming one of these interns or in supporting them, please contact the Daniel Pearl Foundation or contact Seeds of Peace.
Shalom.